3 Trends Shaping the Future of Home Theater Installations
Home cinemas are beginning to surpass commercial theaters in terms of popularity and experience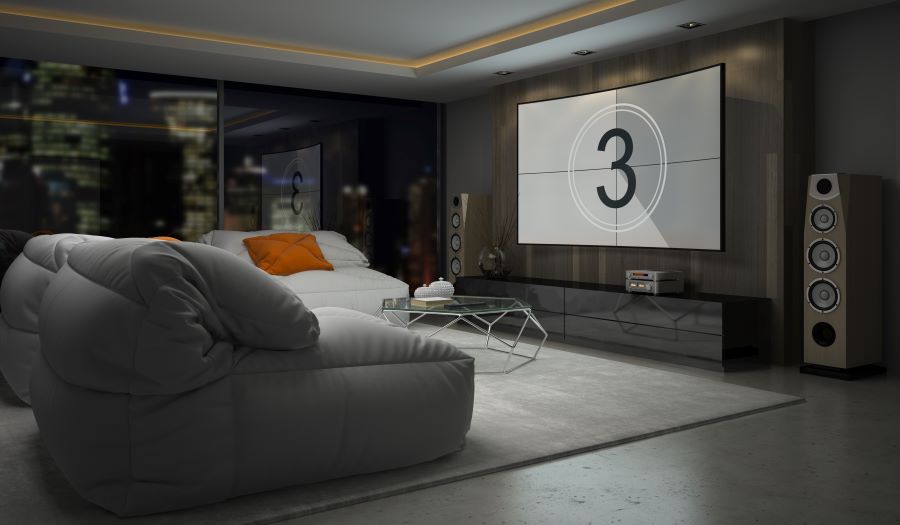 Home entertainment is hot right now, spurred on in large part by the coronavirus lockdowns in 2020 that left families in Dallas, TX, and worldwide with no other choice BUT to find enjoyable activities inside the home. But even as movie theaters and other entertainment venues reopen, many homeowners are still jumping on the home theater installation trend for the convenience, flexibility, comfort, and relaxation the in-home viewing experience provides.
As the shift from theatrical events to home entertainment events continues, where do we see the home theater industry heading? Take a look at three trends that are shaping the cinematic experience of the future.
SEE ALSO: Realize Your Dream Entertainment Experience With a Professional Home Theater Installation
Multi-Purpose Design
A theater room dedicated solely to watching movies is still a popular design style for passionate cinephiles. However, many homeowners today are seeking room design that supports multiple types of entertainment. Along with watching movies, today's home theaters are used for everything from binging TV series to playing video games to cheering for the home team on game day.
Modern home theater design has expanded to include solutions that facilitate flexible entertainment spaces — like hidden technology, multiple screens, and nontraditional seating. Unique home theaters may share space with a built-in bar, a karaoke stage, or a pool table. Today's homeowners want versatile entertainment spaces that support quiet time spent relaxing solo as well as rowdy party time spent with friends and family.
Impressive Audio Video Technologies
Advancements in residential audio and video technologies have made it more appealing than ever to skip the public venues and recline in a home theater for movies, TV shows, and sports games. In display technology, 4K projectors are more widely available and becoming more affordable every year. Televisions are already barreling past 4K and introducing 8K resolution for even more lifelike and detailed picture quality. Additionally, more and more televisions support high-dynamic range (HDR) technology that delivers a better color gamut and higher contrast levels for your viewing pleasure.
Finally, televisions are becoming bigger while projectors are becoming smaller. Some new TVs now top 100 inches and provide an incredible big-screen experience at home. And short-throw projectors that need less space to project a large-screen image are bringing the classic movie theater experience into smaller theater rooms.
And let's not forget home theater audio. Surround-sound technology formats like Dolby Atmos and DTS:X allow you to create an immersive soundscape that folds you into the center of your favorite movies and TV shows.
More Access to Content
At one time, going to the movie theaters was one of the only ways to view new movies. Today, more high-quality content is available for download or streaming than ever before. Streaming platforms like Netflix, Hulu, Amazon, and Disney+ produce and launch original movies, TV shows, documentaries, and more direct to streaming, expanding your options for fresh, original content.

At the same time, the window between the theatrical release of a film and its release to download or streaming is shortening. In August 2020, Universal Entertainment and AMC struck a deal to release Universal movies to home entertainment within 17 days after theatrical release (down from 90 days). And this year and last, many movie studios like Warner Bros. and Disney are simultaneously releasing movies to theaters and streaming platforms.

The ready accessibility of quality content makes home theaters even more appealing because you're not missing out on viewing opportunities by skipping the commercial theater.

At Custom Media Inc., we have a reputation for excellence. We're ready to design, build, integrate and customize the home theater installation you've been dreaming about. When you're ready to get started, give us a call or reach out online so we can schedule a consultation.

No video selected.